For most people, December is a highly anticipated month. Between holidays, time off from work, family activities, and more, your customers have a ton going on!
That's why your small business marketing should be sprinting its final stretch this December to get the most out of this year. Email marketing is the perfect December add-on to squeeze in last-minute ROI before time runs out. That is, of course, if you have a great set of subject lines to help your business take off! We'll be helping you map out your December email marketing by answering the following:
What are some email subject line tips to keep in mind?
What email subject line ideas could your small business use this December?
What should you put as the subject line for your holiday emails?
Pour a cup of eggnog and get cozy with these December email subject line ideas that are sure to elevate your business.
Email subject line tips to remember this December
December can be crucial to your email marketing efforts since it's during a peak busy season on top of being the end of the year. In fact, studies have shown that emails sent during winter drive the most traffic to your website. To maximize your email ROI, here are a few email copywriting tips to keep in mind:
Add festive flair
This is the perfect time of year to get creative with your subject lines since most people will be eager to celebrate the holidays. Not only that, but 33% of recipients will open an email simply because it has a catchy subject line. Have fun with some holiday marketing slogans or rhyming taglines to make your email pop.
If you're struggling to get creative, try leveraging emojis to catch even more attention. Contrary to popular belief, emojis are recommended because 56% of brands that use them in their email subject lines saw higher open rates.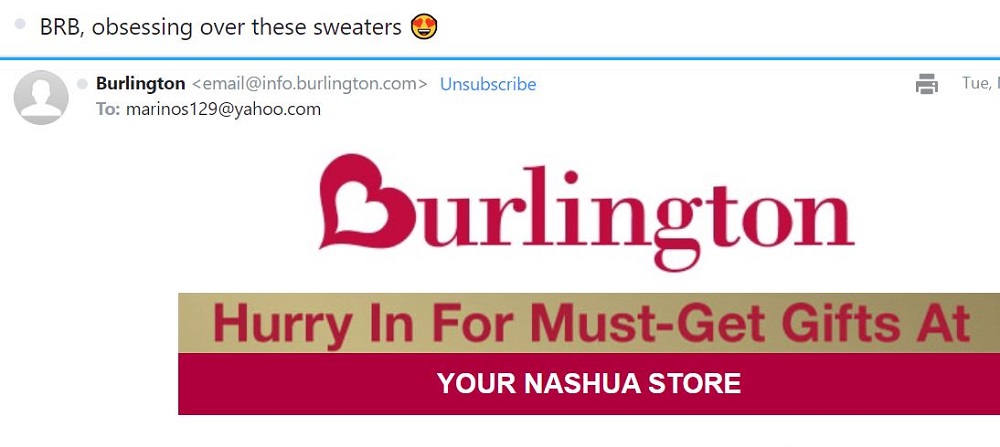 Keep your subject lines short and sweet
The challenge with email subject lines is they can easily get cut off depending on your recipient's inbox or device style. Avoid letting valuable information slip away due to large character counts by keeping your email subject lines concise.
Be sure to get to the point of the email, so that your recipients know why they need to open for more. To help stick to consistently short and efficient email subject lines, familiarize yourself with these maximum character counts below:
Connect with your recipients
Isn't it the best when you feel noticed and appreciated? Try to keep that in mind when you're looking to engage with your target audience. Using a personalized marketing strategy through tactics like including your recipient's first name in email subject lines has been proven to increase click-through rates.
If you're struggling to finesse individual names into your email subject lines, leverage a marketing partner that will have the technology to do the personalization for you!
Related: Download our free guide to targeted email marketing.
December email subject lines
Whether you're a local shop, a small startup, a popular healthcare office, a family-owned services business, or a budding business within any industry in between, we kept all verticals in mind when brainstorming these universal December email subject lines:
5 Reno Tips to Remember This December
Tilly, Warm Up with Our Signature Drinks
Warm Winter Recipes from Our Family to Yours
Brrr… Chilly? We Can Help
Appointments Filling Fast! Book Now
Tilly, Your Coupon for All Our Winter Gear
Miguel, Question for You…
Traveling This Winter? Up to 35% Off
Rob, Deep December Discounts for You
Kari, Shop with Us All December Long!
Cold? Call McCue's HVAC Now
What to Avoid This Winter
December is Our Favorite Month! Know Why?
We Wish You Well This Winter
8 Winter Wonders We're Talking About
Why Wait? Winter World at R&B's Shop Starts Now
Sample NEW Winter Flavors at Cali's Bakery
See You Soon? Exciting December Event
Genevieve, You're Invited!
Plan Your December Projects the Right Way
December Fender Bender? Call Red's Auto
Order Now Before It's Too Late!
December Discounts Up To 40% Off!
December Freebies Inside!
Warm Wishes from Us to You
It's Snowing Savings at Rudy's Contracting
R-YES-V-P To Our Winter Events
Layering on Savings Like Sweaters!
Don't Let These Deals Freeze Over! Limited Stock
Holiday email subject line ideas
December is such a holiday-packed month it can feel overwhelming. Know what holidays to incorporate when with our complete holiday email subject lines list:
Email subject lines for Christmas
It's no secret that Christmas is one of the most prominent December holidays. Here are some ways to capitalize on this by using Christmas-themed emails as a part of your holiday marketing:
Ring Under the Tree? Pre-Plan with Whim Events
Wrap Up Results with Our Tips
Shh… Santa Has a Secret!
Merry Christmas! A Gift for You
Real or Fake Tree? We Weigh In
Leave Stacy's Cookies Out For Santa
Silent Night… Just How We Like!
All We Want for Christmas Is…
Sleigh Bells on Our Snowplows
Christmas is Coming! Are You Ready?
Christmas Dinner Tips & Tricks
Merry Christmas, Trina! 25% Off
Christmas Coupons to Celebrate
Mino, Merry & Bright Deals For You
Unwrap Christmas Savings Here
Happy Holidays from [Your Business Name]
Wishlist Ready? What to Add
What We Have on Our Wishlist This Year
Elves Work Hard, We Work Harder
Happy Holiday Hot Deals
Sleigh Your Christmas With These Ideas
Deals So Hot Jack Frost Is Melting
Very Merry Savings
You're Invited! Pru Insurance Virtual Holiday Party
12 Days of Christmas Savings Inside!
Related: Check out our free, complete guide on 2021 holiday marketing (with new data!)
Email subject lines for Kwanzaa
To build a strong brand reputation, you'll want to be inclusive of all cultures and holidays. To start, here are some Kwanzaa-themed subject lines:
Sharing Our Kwanzaa Traditions
7 Tips for the 7 Days of Kwanzaa
7 Different Discounts Each Day of Kwanzaa!
Join Us for a Karamu Celebration
Day 1: Finding Unity Within Our Community
Celebrating Kwanzaa? We Can Help
7 Ways We're Giving Back During Kwanzaa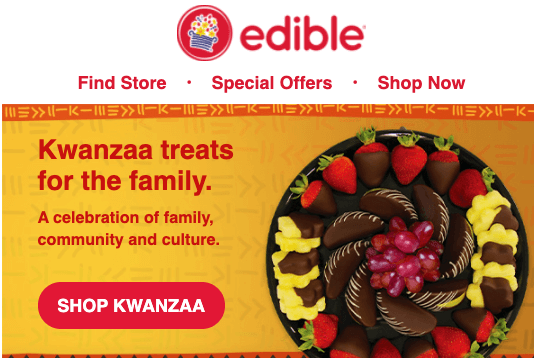 Email subject lines for Hannukah
Hannukah is another major December holiday you can acknowledge along with Christmas and Kwanzaa:
Shine Bright! Celebrating a Festival of Lights
How We're Celebrating Hanukkah This Year
Our Favorite Hanukkah Traditions
8 Ways We're Giving Back for Hanukkah
Light Up Your Home with Our Hanukkah Specials
How We Can Help You Celebrate Hanukkah
8 Coupons for Every Special Hanukkah Moment
Email subject lines for the new year
Your customers are most likely going to be filled with excitement on New Year's Eve. Get them excited about your business, too, with these email subject lines for the New Year:
New Year, New You! Kendra's Gym Now Taking Clients
Damien, Are You Prepared for the New Year?
Ready for 2022?
TTYL 2021! Hello 2022
New Year's Bash at Ben's Bowling & Brews
Secret Sale Releasing at Midnight
Cheers to the New Year!
Cheers to You! Get a New Year's Deal
3, 2, 1… Happy New Year!
New Year = New Deals at Rutger's Roof & Repair
Deals to Pop Champagne Over
New Year, New Gear at Sun & Ski
Need a New Year's Outfit? We've Got You Covered
Plans for the New Year? Join Us!

Even more holiday email subject lines
Aside from the major holidays, there are plenty of other notable days you can mention to spice up your email marketing campaigns.
Discounts so Nice They're Naughty! (National Santa's List Day, December 4)
A Drink on Us! (Repeal Day, remembering the end of prohibition, December 5)
Grim's Grill & Bar Thanks Its Employees (Bartender Appreciation Day, December 6)
Harley, Your Donation Counts! (Human Rights Day, December 10)
Offers So Good They Should Win a Prize (Nobel Prize Day, December 10)
Early Bird Deals on Holiday Florals at Tara's Home & Garden (Poinsettia Day, December 12)
Presley, a Sweet Treat For You! (National Maple Syrup Day, December 17)
Bah Humbug! (Bah Humbug Day, December 21)
These Offers Are Anything But Short! (Winter Solstice, the shortest day of the year, December 21
For the Rest of Us! (Festivus, a Seinfeld reference, December 23)
Filling Our Donation Boxes for Boxing Day (Boxing Day, December 26)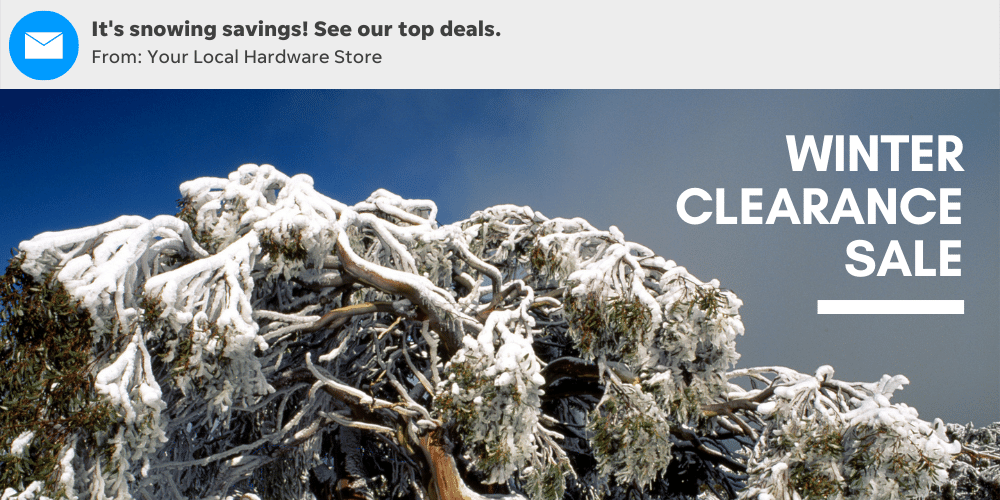 December newsletter subject line ideas
Closeout the year on a strong note with these email newsletter subject lines that will get the job done:
Wrap Up Results with Our Tips
What to Remember this December
December Wrap Up
That's Wrap! Our December Recap
What We're Planning for in 2022
Tips for 2022 You Won't Want to Miss
Our 2021 Roundup: Highlights from This Year
Defrost Your 2022 Plan With our Guide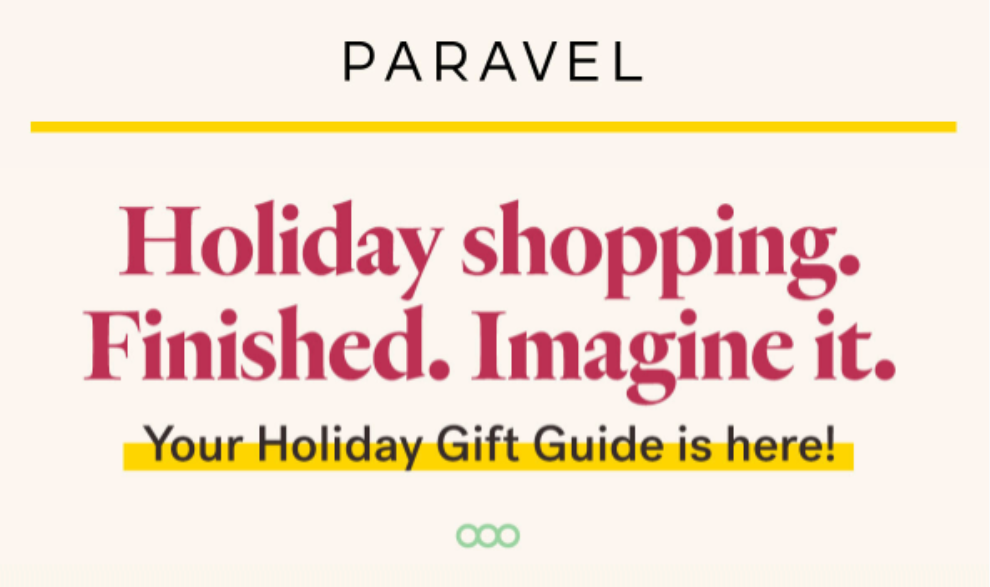 Make this December one to remember with email marketing
The final month of the year could make or break your 2021 and 2022 marketing goals. However, with these email subject lines that pack a punch, December can be the gift that keeps on giving for your business! By adding some festive flair, a little bit of personalization, and an enticing offer, your emails are sure to get opened all month long.