Did you know that the average person spent 144 minutes on social media every day last year? That's 2 hours 24 minutes. Every day.
To put that into perspective, that's:
Two minutes longer than the runtime of Forrest Gump.
Two minutes longer than a flight from Chicago to Miami, FL.
About the average amount of time it takes to make, bake, and ice a cake (yum).
Imagine doing one of those activities every single day. (And maybe you do. I won't judge.)
Here's a breakdown of where, exactly, they were spending that time across social media channels:
It's safe to say that social media isn't going anywhere and will likely continue growing throughout 2022. Which means social media marketing should be a cornerstone of your strategy this year.
One way to keep your strategy fresh and engage with your audience in new and interesting ways is to understand the latest trends and what you can expect this year. So we've put together:
The top social media marketing trends for 2022.
What these trends mean for your business.
Quick tips to help you make each social media marketing trend work for your business.
Let's get trending!
2022 social media marketing trends (with tips for your business!)
Use these seven social media marketing trends along with our tips to keep your business's social media game going strong all year long.
TikTok will take over
While TikTok is still the new kid on the block, it saw explosive growth in 2021—hitting 1 billion users and was the number one downloaded app in the US. This video-sharing app is a sensation with almost all age ranges—as well as businesses and brands both large and small.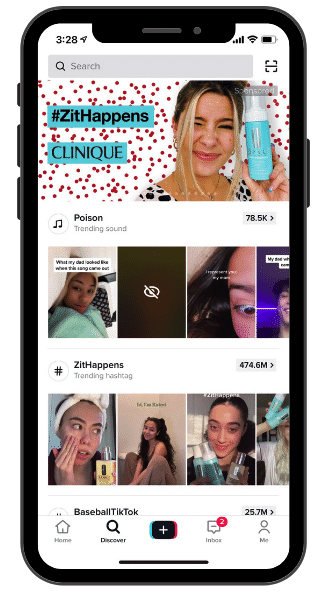 What this means for your business: With TikTok focusing more on catering to businesses in 2022 (not to mention the rise in TikTok advertising), this is a channel you might need to keep an eye on. If you're already on it, make the most of its high organic reach rate and identify the best time to post on TikTok for your audience.
Related: Get our low-down on all things TikTok marketing.
TikTok tips for 2022
Use these TikTok tips to make this social media trend work for you.
Decide whether or not TikTok is right for you
Just because it's available and it's popular doesn't necessarily mean it's right for your business. TikTok requires constant video creation. Granted, TikTok videos can be simple, silly, and require little-to-no editing or expertise from your phone. But it can still be a time commitment. So if your audience isn't actively using TikTok or you don't think it aligns with your brand at the moment, then it might be okay to skip this one for now. But, definitely keep an eye on it as it evolves throughout the year!
Cross-promote your TikTok videos
With TikTok's growing popularity, other platforms (ahem, Instagram) have jumped on board the short-form video train. This gives you a great opportunity to take the videos you're creating on TikTok and use them on your other social media channels—especially Instagram Reels.
Take advantage of Creative Center
TikTok launched a Creative Center specifically for business owners to understand what resonates, what's trending, and how to use TikTok to market and advertise your business. Creative Center includes top ads, what's popular (including trending hashtags), and even a video editor to make creating TikTok videos easy.
Even more focus on influencer marketing
According to Instagram's trend report, consumers—especially Gen Zers—now consider content creators and influencers to have more impact on their behaviors and purchasing decisions than celebrities. This means they're no longer wooed by big celebrity endorsements—they're going to their favorite fashion blogger or TikTok performer to see what's hot.
What this means for your business: Influencer marketing is nothing new—and it can be a big win for your business if you can find the right influencer or influencers to partner with. Influencer marketing has slowly been making its way into the small business marketing space in the form of micro-influencers. A micro-influencer is an influencer with fewer than 50,000 followers on social media, typically in some kind of niche. For example, there are local micro-influencers who focus on posting about community businesses, local happenings, and more or micro-influencers focused around a specific topic like automotive, home services, and more.
Social media influencer marketing tips for 2022
Here are a few influencer marketing tips to help you get in on this social media marketing trend.
Encourage customers to tag you on social media
Your customers can act as mini influencers when they post about your business. It's an easy way to get in front of their network—no matter how big or how small. Consider running Instagram giveaways and Facebook contests that encourage customers to tag you on social or share an image of your business.
Partner with a complementary business
Is there a local business in your area with a similar target market killing it on social media? While a business isn't necessarily an influencer, you can use a similar strategy by partnering with that business to do social media swaps or by working out some kind of arrangement where they post about your business and you post about theirs. This can help you reach a new audience through the business and build a relationship with another local place!
Scout out a micro-influencer
Identify a few micro-influencers, either in your local area or in your niche, and reach out to understand what a partnership might look like. You'll want your micro-influencer's audience to be comprised of people who might become your customers (this is where local can be key!).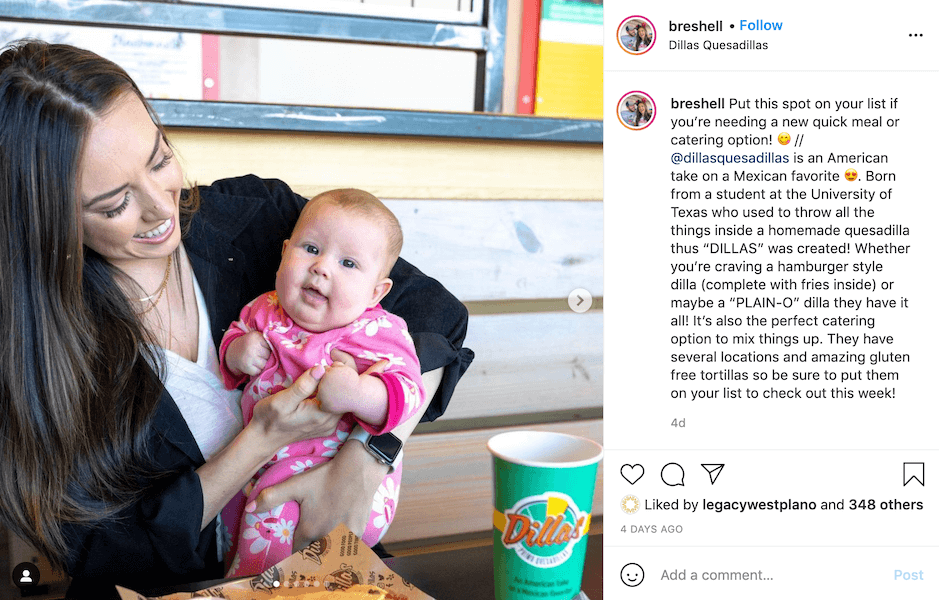 Personalized experiences will be a must
Today, customers expect a level of personalization from the businesses they engage with. While that doesn't necessarily mean an Instagram or Facebook post dedicated to each customer, it does mean tailoring your content and your strategy to your audience. This isn't a new social media marketing trend, but it's growing in importance and will continue to in 2022.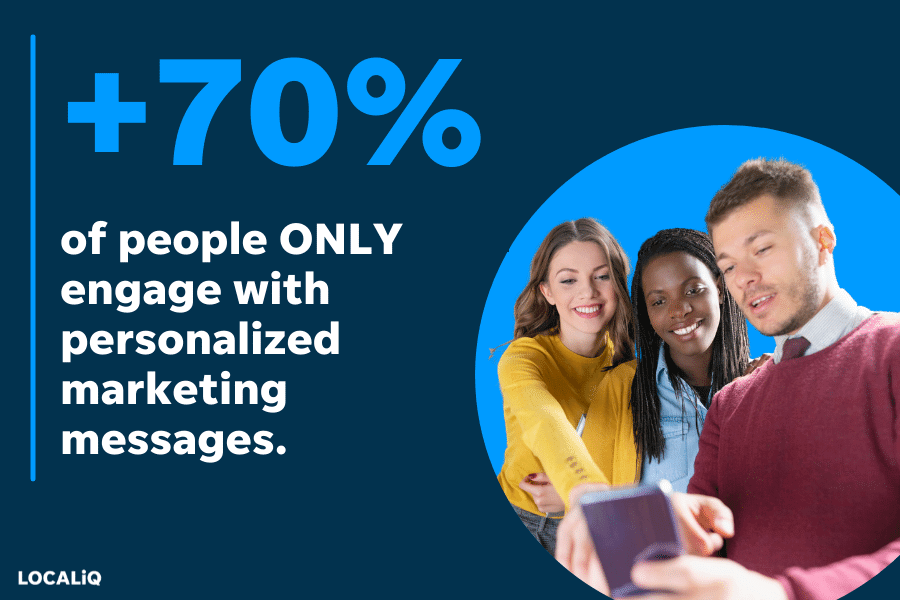 What this means for your business: It's no longer enough to throw a post out there and hope for the best. With access to data and analytics about your audience on social media—as well as an understanding of who your target audience is—there's no excuse not to cater your social media marketing strategy to your specific audience.
Tips to personalize your social media marketing strategy in 2022
Use these tips to make this social media trend work for you.
Get clear on your target audience
If you don't have a clear picture of your target audience, as well as the different types of personas within your audience, now is the time to really dig in and build that out. If you don't know who you're engaging with or posting for, your social media strategy won't be successful. Use our tips to find your target audience, and consider using these customer feedback questions to gain even more insight.
Use social media analytics for even more insights
One of the wonderful things about social media is that most channels provide analytics that can give you a great idea of your existing audience, including demographic information, what posts they engage with, and even when to post for optimum engagement. Take advantage of this data to personalize your social media strategy to the people already interested in your business.
Here's a screenshot of some of the data you can get from Facebook Insights.
Create content that resonates with your audience
Once you have a deeper understanding of who your target audience is and what types of content they resonate with, create content that speaks to them directly. This can include social media posts that address specific questions, educate on topics of interest, and get them excited to engage like a contest or silly social media holiday post.
Related: It's also important to incorporate social media accessibility. Get our best tips here!
Selling on social media will increase
Last year was a big year for selling on social media with Shops on Instagram gaining traction and businesses using shopping features to sell merchandise directly through some of these platforms. We see that not only will this continue in 2022—but it will grow, with projections saying shopping on social media will hit $1.2 trillion by 2025.
Instagram introduced the Shopping tab last year.
What this means for your business: If you sell a product and aren't leveraging social commerce in some way, it might be time to look into this social media marketing trend to increase sales.
Related: Get tips to create a winning social media landing page to increase sales on social media.
Tips to sell on social media in 2022
Use these tips to help your business sell with social media this year.
Set up an Instagram shop
Instagram is arguably the best place to try social selling. So if you're considering hopping on this trend this year, then it's important to set up your Instagram shop. To do this is simple, but first, you'll want to make sure you meet Instagram's Commerce Eligibility Requirements, which include having products for purchase on the website associated with your Instagram account. Get the full details to set up your shop on Instagram here.
Take pictures that stand out
In order to sell your products or promote them on social media, you'll want to include images that stand out and really showcase what you have to offer. This might mean investing in some professional product photos or working with a designer to create some images you can share on social that will really entice users to purchase your items.
Another great option here is sharing user-generated content of real customers using, wearing, or showing off your products. You can run a social media contest to try to collect these.
Consider live stream selling
Live social media selling is something we plan to see more of this year—again, especially on Instagram. Businesses can go live on Instagram and feature products with product tags so viewers can purchase the item directly from the video. Using live stream is a great option to show off your products, how they can be used, and to answer questions and concerns in real-time from viewers.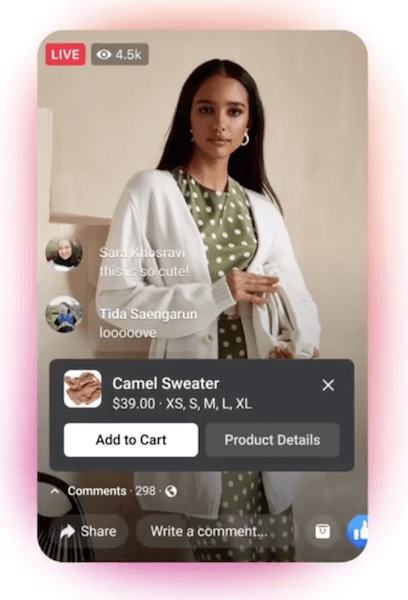 Bonus tip: Make sure you know the best time to post on Instagram for your business so you can maximize engagement.
Video will be even more important for your social media strategy
Video is not a new social media marketing trend, but the options available for video on social continue to evolve. It's not enough to create videos, it's also important to leverage video in the right ways to reach your social media goals.
What this means for your business: Considering the popularity of TikTok and Instagram Reels, video marketing should be a key component of your strategy in 2022.
Video tips for social media marketing in 2022
Use these tips to create winning videos as part of this social media marketing strategy.
Start a video series
Creating and sticking to a schedule for your social media videos can help you build an audience and increase engagement on your social sites. By sticking to a regular schedule, you can encourage users to tune in and create an easy habit to stick to throughout the year. Your series cadence can be as infrequent as once a month or as regular as once a day. The important part is to let your audience know when your video will be posted and to tease your upcoming topics to build excitement.
Build a community through video
Building a community was one of our top social media marketing trends from last year, and it's going to continue to play a huge role in your strategy this year. You can use video to build your community by crowd-sourcing questions to answer, topic suggestions, and people to feature in your videos. For example, you could ask your customers to submit questions for an upcoming video or ask what they want to see in your upcoming posts to get customer feedback.
Feature real customers in videos
Your existing customers can help you take your social media videos to the next level. By featuring real customers speaking about your business, you can build trust and social proof, two key components people look for when trying to decide whether or not to work with a business. Reach out to some of your loyal customers to ask if they'd be willing to be featured in a social media video for your business this year.
Brands will be expected to speak up about causes
In the past, it was a best practice for most businesses to remain focused on just their business and related topics. But since 2020, customers have called for businesses to speak up about issues they care about, and research from 2021 shows that 43% of people favor businesses that speak up about issues on social media. As businesses and brands get more comfortable aligning with causes and specific organizations, this will trickle down into social media marketing for small businesses.
What this means for your business: If your business has shied away from speaking up about causes you and your community care about, it might be time to rethink your strategy—or figure out a way to get involved in other ways to appeal to your audience.
Tips to navigate this trend in 2022
This can be a tricky subject for many, especially given the topic, so here are some tips to keep in mind.
Be clear about your mission
Your business's mission can help guide many aspects of your business—especially when it comes to the types of causes you care about and how you support them. Create your mission statement (if you haven't already) and then think about how you can translate that mission into specific causes or local organizations that align with your brand values.
Decide if and how you will speak up
It can still be tricky to navigate social justice issues and other prevalent issues in our world today. Even something as seemingly harmless as asking customers to wear masks has been too hot a topic for some businesses depending on their customers. So it's a good idea to outline your business's specific dos and don'ts when it comes to if you will speak up and how you will do so. Some customers may perceive being silent on issues as a show of support, so identify when it's important for your business to say something—and how you might want to say it.
Find ways to get involved in local organizations and show how you care
Whether you publicly speak about specific causes or not, your business can always earn some goodwill by supporting or getting involved with local causes or organizations. Identify some local charities or groups that align with your business's mission that you can support either with your time, your profits, or a sponsorship. By promoting this partnership on social media, you can show your audience you're involved with and a supporter of a local cause—and that's something everyone can get behind.
You can also highlight causes that are important to both you and your customers as a way to show how your business cares.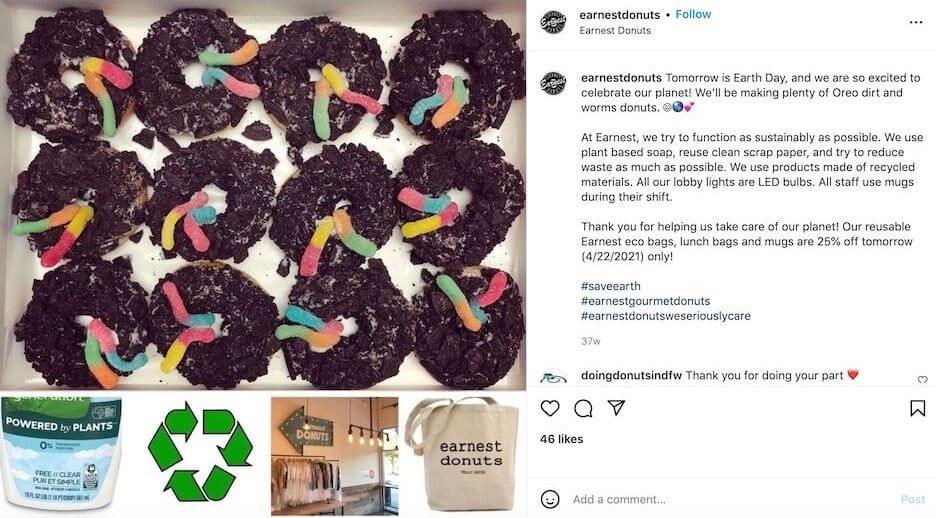 New features and updates will drive your strategy
In 2021, we saw multiple updates across social media channels that required businesses and creators to pivot their strategies. This will continue in 2022 as social media channels will be looking to optimize the user experience and continue bringing in ad revenue from brands.
What this means for your business: It will be key to stay on top of the latest updates and algorithm changes so you can keep standing out on social.
Tips to stay on top of updates in 2022
Use these tips to stay ahead of the curve this year.
Understand how the different feeds work
Understanding how the Facebook News Feed and Instagram feed work can help you create a strategy that gets you found. While many of these features are constantly changing, there are some tried-and-true tactics that can help you get found in feeds, like by using hashtags, tagging users, and adding a location to your posts.
Keep yourself updated on changes and updates
Again, social media platforms are constantly changing and evolving, so the best way to ensure your strategy is moving the needle is to keep yourself informed of the latest changes and updates. You can do that by keeping up with your favorite industry blog (ahem, like us!), following the channels themselves on social media (Twitter is an especially great place to see what's changing), and subscribing to industry newsletters.
Run social media advertising
The best way to make sure your business is getting found and seen on social media despite the updates and changes is to run social media advertising. Social media advertising, like on Facebook and Instagram, guarantees that you'll get in front of a specific audience—no matter what's going on with their feed. Learn more about social media advertising here.
Post regularly
One way you can keep your business in front of your audience on social media is by keeping a regular posting schedule. The more regularly you post, the more chances you have of your audience seeing your posts. Consider creating a social media calendar and posting according to best practices per channel. Looking for ideas for your social media calendar? Download our 2022 marketing calendar for monthly post ideas! And learn how to use Canva to create social post images that shine here.
Keep your business trending in 2022
Understanding and applying tips from these top social media marketing trends can help your business stand out, increase engagement, and drive results from your social media pages in 2022. Want to learn more? Check out our local social media marketing course!
Here are the top 2022 social media marketing trends:
TikTok will take over
Even more focus on influencer marketing
Personalized experiences will be a must
Social selling will increase
Video will be even more important
Brands will be expected to speak up about causes
New features and updates will drive your strategy
Want to know how your social media presence stacks up? Try our online presence and website grader here!