The holidays are right around the corner…and so are your customers! If growing your small business is on your holiday marketing wish list, look no further than your local listing profiles.
Preparing your Yelp, Google My Business, or other local listing profiles for the holidays is a sure-fire way to drive more revenue. We'll walk through how to optimize your local listings with the latest 2021 updates just in time for the holidays and provide all the answers you need to questions like:
How do I add holiday hours to Google My Business or Yelp?
How do I get more Yelp business reviews or Google My Business reviews this holiday season?
What platform updates can help me with my local listing holiday marketing?
Plus, read on for a downloadable checklist with all our tips so you can make sure your local listings are on the nice list this year.
Yelp updates and tips for your 2021 holiday marketing
In 2021, Yelp is a necessary component of an effective local search marketing strategy. Yelp has certainly been busy this year to make the holiday season bright for small businesses. Here are some Yelp updates with tips to make your holiday listings brighter this season.
1. Try Yelp search ads
If you're not already using Yelp search ads, the holiday season is the perfect time to start. In fact, just this past August Yelp search ads received updates so that you can match up to your customers' searches even better than before.
Yelp improved its signaling system for how it reads and ranks results for queries on the platform. This means your ads will only show for the most relevant searches possible—making Yelp search ads during peak holiday times all that much more worthwhile.
2. Review your pricing and quote information
Regardless of your industry, over 60 business categories now have access to Yelp's request a quote feature that was introduced last year. If you haven't opted to use this feature yet, it can help drive leads for your business by allowing potential customers to fill out an inquiry questionnaire right from within the platform.
However, service-based businesses get even more with this feature starting this past October. Yelp introduced new cost guides that help users predict the price of jobs they're interested in. This ensures any leads you bring in this holiday season are of the highest quality.
Additionally, don't forget to remind any current service customers to leave you a review. Yelp has also created a new review guide that has pre-set prompts to make reviews quicker and easier to create.
3. Update your business's vaccination or COVID-19 policy status
The holiday season makes it easy to forget the craziness of marketing during the pandemic. However, the need to connect with your audience regarding COVID-19 matters is still very much in place. Help customers plan ahead by posting any policies or updates your business may have.
Thanks to Yelp's latest COVID-19 update from this past August, you can now add a section to your Yelp profile that notifies viewers of any vaccine requirements or pandemic precautions.
This update comes at the right time to act as a friendly reminder that, even if your industry is not impacted, COVID-19 still worth mentioning this holiday season. Plus, if you have any shipping delays or changes in services you can always add it to your Yelp profile's information section, too.
Related: Download our guide on what your business needs to know about marketing during COVID-19.
Google My Business tips for better holiday marketing
To have a well-rounded local strategy this holiday season, not only will you want a strong Yelp presence—you'll need an optimized Google My Business listing too.
Google My Business also had some exciting new features added for small businesses in recent months, and they come just in time for you to give your GMB listing a little extra boost as part of your holiday marketing strategy. Here are our tips to make the most out of your Google My Business holiday marketing:
4. Add specific products or service offerings to your GMB listing
This past July, Google found that searches that include the queries "who has" and "in stock" have grown over 8,000% year over year. Additionally, searches for "support local businesses" grew by a whopping 20,000% over the last year. This means your local audience will be looking specifically for what your type of business has to offer this holiday season.
Google My Business is recognizing this by now providing the option to list out services, products, menu items, and any offerings in between, right on your Search or Maps Business Profile. By including your key items, you'll enable searchers to view your holiday offerings without ever having to click away.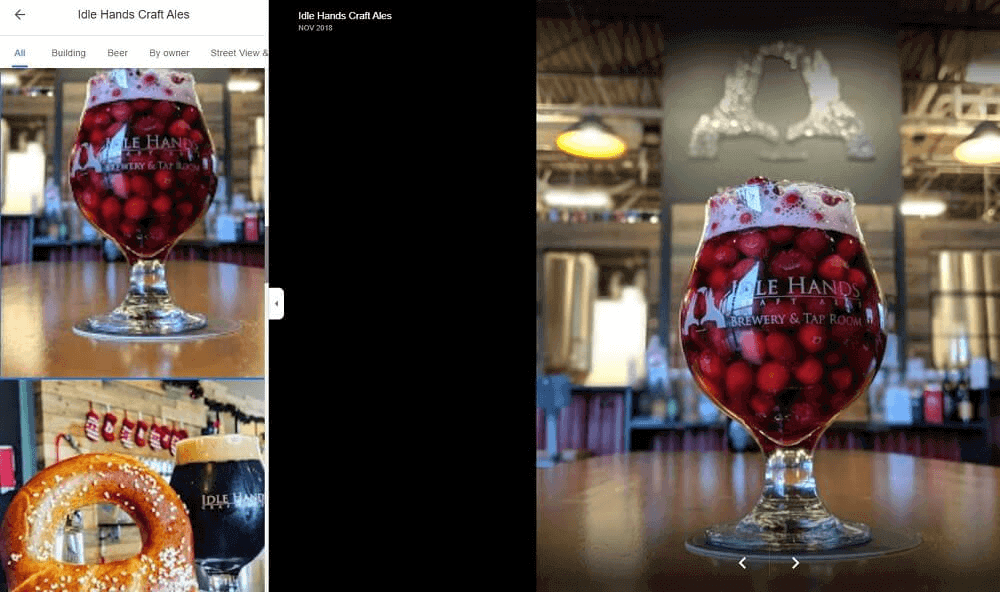 This Google My Business profile includes pictures of holiday menu items.
5. Try Google My Business posts
We know the holidays are the prime time for small businesses as people look to support their local economy. However, with a peak season comes peak competition.
Google My Business Posts are a fantastic way to stand out in a saturated search result space since you'll be giving your audience something fresh to look at within your Business Profile. Treat them similarly to holiday social media posts. You can use Google My Business Posts to announce upcoming holiday events, highlight limited edition holiday products and services, update holiday hours, or share how your business is celebrating the season.
6. Respond to your Google My Business reviews
Get ahead of holiday customer service woes by starting to respond to reviews on Google My Business now. Reputation management is a must-have year-round, but even more so around the holidays as consumers decide which brand to do business with.
Google My Business makes it easy to respond to reviews so that you can turn any bad review into a positive boost for your business just in time for the holidays.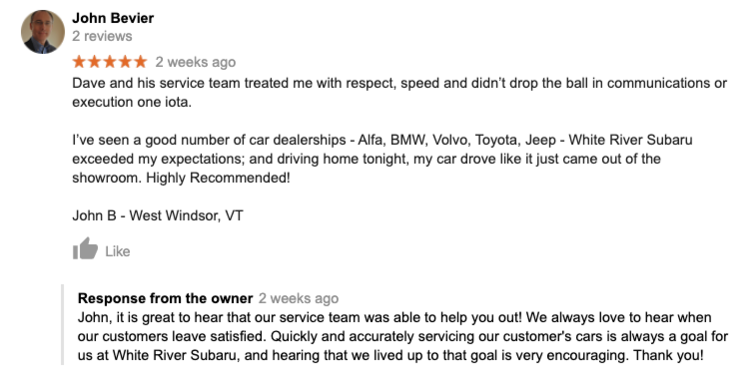 Even more local listing tips for the holidays
Still looking for other ways to check local listings off your holiday marketing to-do list? We've got you covered! Regardless of whether you're on Yelp, Google My Business, Facebook, or other local listing sites, these holiday marketing tips can apply to you:
7. Get creative with your business description
Stand out from the competition this season by using festive language in your business description. Brighten up your business description for the holidays with a winter marketing slogan or a holiday anecdote. Show off your seasonal spirit by discussing how your business traditionally celebrates. Or, encourage your customers to do business with you for a unique holiday experience.
8. Double-check your profile's holiday hours
Is your business closing, changing shipment times, or altering hours for certain holidays this year? If so, be sure to double-check that the standard information across all your local listings is accurate.
Your customers will have hopping holiday schedules, and they'll want to contact or find your business quickly and easily. Ensure that your phone number, address, operating hours, and shipping information are consistent across all your listings.
You can find out how to update your Google My Business Holiday hours here. And, you can follow the steps to update your Yelp holiday hours here.
Here is an example of updating Google My Business holiday hours.
9. Try other channels to boost local searches
Your business's local listing is only as strong as the traffic it gets! Getting your listings ready for the holidays is just half of your local marketing battle.
In order to drive more traffic to your Yelp page, Google My Business profile, or other local listings, people have to know about your business first. Investing in a multichannel marketing strategy can help with this. For example, local PPC ads can boost searches for your business that will lead people to your GMB listing. You can also increase brand awareness with holiday social media posts that will lead your audience to your local listings in the future. (Check out December social media post ideas here!)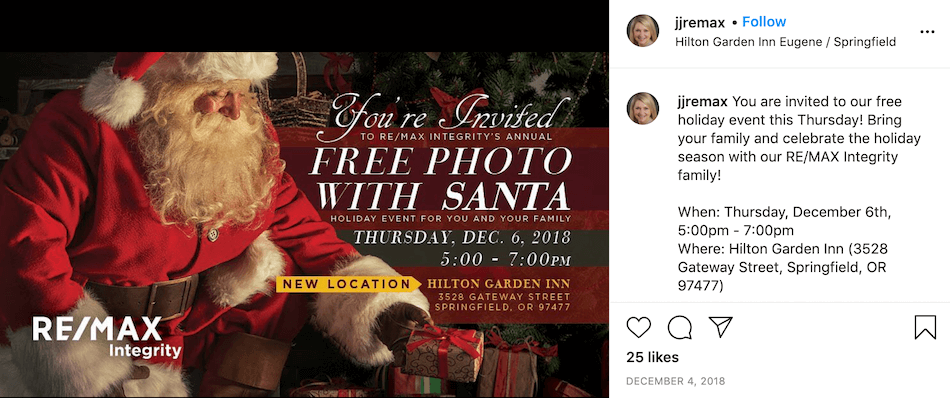 10. The more photos, the merrier
It's been proven that local listings with multiple images bring in more website visits, direction requests, and calls it generates. Plus, consumers retain 95% of a message when it's in media format.
Since holiday messaging can be fleeting, this is the perfect time to add more photos to your local profiles since you have plenty of material to work with.
For example, you could add pictures of your decorated storefront, employee holiday party, a limited-edition holiday offering, or even a holiday-themed video. This will spice up your local listing to draw attention and make your brand more memorable.
This local restaurant features a picture of holiday decorations on its Google My Business profile.
11. Incentivize your local audience
If you're struggling to get traction on your local listings, a little bit of holiday incentivizing never hurts.
For example, you could pull in new searches by running a referral program through the winter. Or entice your current audience by posting pictures or promotions of holiday happenings your business is running.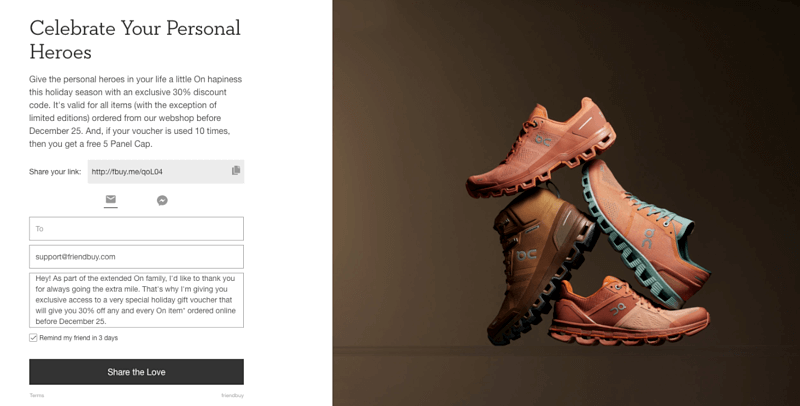 Lastly, try gently asking for reviews after holiday purchases via an email campaign to have a local listing presence that will last you long after the New Year.
Make sure your online presence is in tip-top shape by checking your score with our free website grader. 
Check local listings off your holiday marketing to-do list
Local listings are important throughout the year, but holiday-themed profiles can take your business to the next level this season. With new updates in time for the holidays, refreshing your Yelp listing, Google My Business profile, or other listings will be a piece of cake. Be sure to save the checklist below to make your small business's local listing the gift that keeps on giving!
PS: Looking for more holiday marketing tips. Download our guide packed with new data to win big in 2021.