Social media means nothing if you're shouting your content into a void. The real value of having a presence on social media is your ability to connect with your audience. When you engage with followers and open up the lines of communication, you build a human connection that helps your brand to stand out from the competition.
But not all social media content is created equal when it comes to engaging your audience. If you're always posting salesy content or sharing posts using the same old, dry format week after week, people are not going to feel compelled to engage with your brand. If you're looking for the coolest ideas to help you create social posts that will get people talking, I've got some good ones to help get you started.
Social Media Post Idea #1: Survey Says…
One of the best ways to get people engaging with your content is to create posts designed to be interactive. That's where Instagram Stories' stickers come in.
When creating a Story, you have the option to include a poll or ask your audience an open-ended question. Your audience can quickly and easily respond to the poll while watching your story. Then, you have the option to re-share responses with your broader audience.
People love taking online quizzes, and it's fun for your followers to see their responses to questions or track the results of a poll. And polls and questions will keep followers coming back to check on results over the course of the 24 hours that your story is up.
The poll or question can be about anything! You can use it for more serious things like getting feedback on a new product or asking people what they think your next blog post should be about. But they can also be silly and fun, as long as they're related to your brand somehow.
This influencer uses polls and questions to keep her followers engaged. Here's an example of her polling her followers about her outfit choices plus an open-ended question about blogging or Instagram that she'll answer in a later blog post or Instagram Story.
@colormecourtney.%22 data-entity-type="file" data-entity-uuid="6fbfa846-13fb-4484-b564-b04caf7d3197" />
Social Media Post Idea #2: Get in Front of the Camera
Video content has taken off in the past few years, so any video content that you create is likely to get better engagement than other forms of content. (Sixty-eight percent of consumers prefer to watch a video about a new product or service, rather than reading something about it.)
The great thing about video is that it makes people feel more connected to your brand. When they can see and hear the people behind the brand name, they feel more closely connected to the business as a whole.
Any kind of video is poised to get great engagement on social, but live video can be especially effective. It gives you the opportunity to engage with your audience in real-time. They can ask you questions (or even just say hello!), and you can respond in the moment and open up a dialogue.
Live video works best when you go in with a plan. Think about hosting a webinar or live Q&A on a specific topic related to your industry, or have someone from your company's leadership team do an AMA about the business. Whatever the concept for your live video, be sure to let your audience know about it in advance so that interested parties can join you while it's happening and come prepared with relevant questions.
Related: 5 Ways to Use Video in Your Marketing
Social Media Post Idea #3: Create a Contest
Everyone loves the chance to win a prize. That's why online competitions are a great way to spark some friendly competition and get people talking about your brand online. Photo contests are especially effective because they not only get your fans talking to each other, but they also encourage your fans to talk about you with their friends.
In many Instagram photo contests, the business will ask the contestants to follow them on the platform and then share a relevant picture with a specific hashtag. When they share the photo, the hashtag allows the brand to identify that photo as a part of the contest.
But the photo is also shared with the entrant's audience. Their followers, in turn, see the hashtag and might get curious, clicking on it and finding a trail leading straight back to the brand. Once the contest is over and you've identified a winner, sharing the winner's name on social and tagging them in posts featuring them with their prize is a great way to keep the contest-related good vibes going.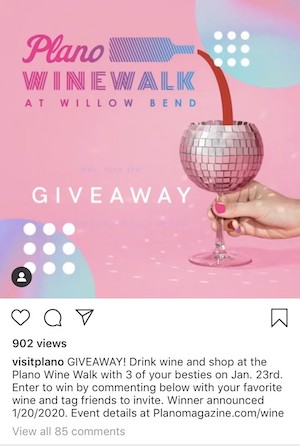 @visitplano." data-entity-type="file" data-entity-uuid="a2685161-fc53-48da-98b1-53ad03df2077" />
Social Media Post Idea #4 Become the Next Jimmy (Fallon or Kimmel)
Hosting a show is a great way to build consistent engagement with your audience. When you start a weekly video series or Twitter live chat, you become a regular go-to resource. People keep an eye out for your content and look forward to hearing your perspective each week.
When it comes to video content, IGTV is a great social media resource. IGTV allows Instagram users to upload videos up to 60 minutes in length. Viewers can watch the content right in the Instagram app, and users can interact with the content in the same way they would with regular Instagram posts (comment, like, and share with friends).
Hosting a regular Twitter chat is another way to build a consistent following on social media. By selecting a unique hashtag, you can gather your followers together at a set time each week to discuss a relevant topic and use your hashtag to track the conversation thread.
The secret to success here — and the thing that makes it challenging — is consistency. You probably wouldn't tune into your favorite talk show regularly if the host were only there 40% of the time.
Similarly, you can't expect to build a loyal audience for your content if you're inconsistent about posting it. It's better to post less frequently but on a regular schedule than it is to do it sporadically.
Social Media Post Idea #5: Give Followers the Inside Scoop
Who doesn't like to feel like a VIP? Getting a little extra attention from a brand can go a long way in building loyalty.
If someone is already following your business on social media, they've proven a certain level of dedication to your brand. They enjoy your content enough to want to see it regularly on their feeds.
So why not reward these loyal followers with a sneak peek at some of the things your business is up to? Do you have a new product launching next month? Share a video with your followers that gives them a first look at some of the features.
Are you hosting a cool, exclusive, in-person event? Post some behind-the-scenes video giving your followers access to your special presenters.
Here's an example from a bakery I like. They were opening a new location and took followers on the journey to build excitement and give a sneak peek.
@unrefinedbakery." data-entity-type="file" data-entity-uuid="7407610a-662c-4930-9ec7-5e3db89daac6" />
The beauty of social media is that it removes any barriers between you and your customers. They can ask you anything, and you can share a response. By crafting content that invites engagement, you help open up those lines of communication and create the opportunity for meaningful dialogue.
If you need a partner to help with your social media engagement strategy, check out our solutions.