Roses are red, violets are blue, your competition is doing Valentine's Day marketing, are you?
Okay, maybe that's not exactly how the poem goes. However, it is true that other local businesses are (probably) already taking advantage of Valentine's Day marketing. So, it's no secret you won't want to miss out on the opportunity to promote your business this Valentine's Day. We'll give you the tools you need to do so by answering questions like:
How can your small business market on Valentine's Day?
What should you post on social media for Valentine's Day?
What Valentine's Day slogans could your business use?
By the end of this post, your business and Valentine's Day will be a marketing match made in heaven!
Related: Want marketing ideas beyond just Valentine's Day? Download our free 2022 marketing calendar packed with tips and tricks to last you all year.
Valentine's Day marketing ideas
Valentine's Day can be huge for growing businesses, as Americans spend an average of $23.9 billion on the holiday every year.
If you truly want to capitalize on all that Valentine's Day has to offer, you'll need to ensure you're capturing the essence of the holiday across all your marketing channels. Here are some Valentine's Day marketing ideas your business can implement across a multichannel marketing strategy:
Update your local listings to appeal to last-minute shoppers
It's never too late for Valentine's Day promotions! In fact, more than 60% of Valentine's Day spending occurs on or within five days of the 14th. A great way to start is to look at your local marketing tactics first. Accommodate these shoppers by extending your hours on Valentine's Day (be sure to update your hours on listings like Google Business Profile).
As you optimize your local listing, don't be afraid to emphasize the "last-minute" aspect. For example, you could make a Google Business Profile post or share photos to your business's Yelp listing to showcase limited edition Valentine's Day products or deals.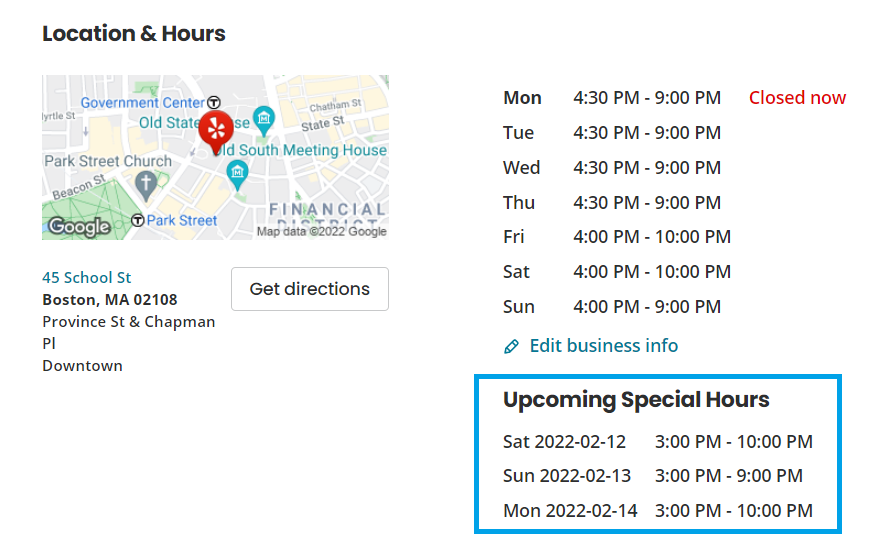 Ask for reviews
On top of updating your local listing for this holiday, another aspect of your Valentine's Day reputation management should be asking for reviews. This can increase your number of positive reviews and attract more new customers. Customers are generally happy to write reviews, you just need to know how to ask for them!
Once you start raking in reviews, be sure to respond to all your reviews—good or bad. If you feel unsure of how to do so, check out our tips to respond to Yelp reviews, or respond to Google Business Profile reviews like a pro.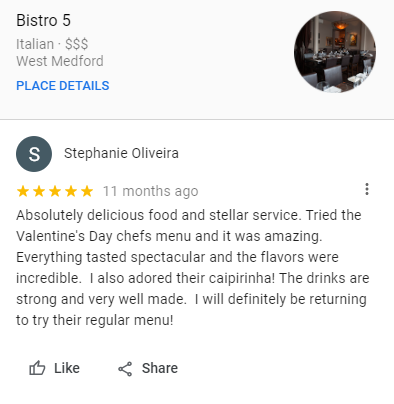 Make a Valentine's Day gift guide
Consumers are forever in search of the perfect gift for their loved ones and significant others. A blog post with gift ideas could easily help step up your content marketing game. Plus, you could include a downloadable Valentine's Day gift guide to help drive leads.
By suggesting great gift ideas to your customers and helping solve the conundrum of what to get their loved ones, you're allowing your business to build trust with your customers that's sure to last all year. Plus, it doesn't hurt to include some items from your own business on the list 😉.
You can use a free tool like Canva to create a graphic for your guide! We shared a guide on how to use Canva here.
Offer a sweet something for all
When dealing with Valentine's Day marketing, don't limit yourself to focusing on couples' items. For example, did you know American households spent $751.3 million on Valentine's Day gifts for their pets? Plus, 85% of parents plan to give their children something on Valentine's Day.
Keep this in mind as you create limited edition Valentine's Day products or offers. You could even hold a Valentine's Day family day in-store or virtually. That way, your customers can have their pets and kids join in on Valentine's Day fun.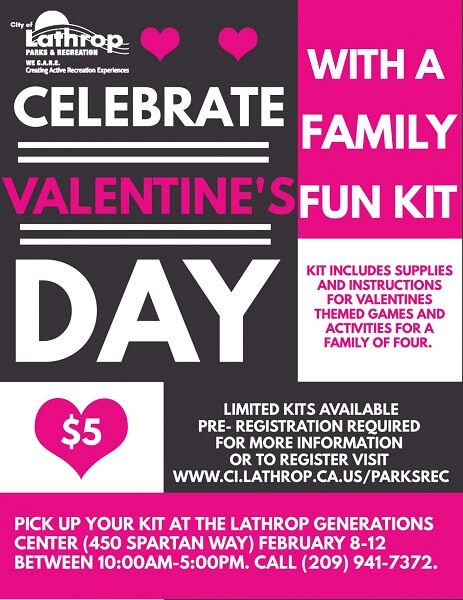 Email a Valentine's Day card
If you haven't started ramping up your email marketing already, Valentine's Day is the perfect time to do so. While your loyal customers are giving you reviews, you can show them some love in return by sending along a simple "Happy Valentine's Day" card.
You could take your Valentine's Day email a step further by including a special offer that could even align with the above gift guide idea. These types of emails give you a great excuse to reach out to your customers again in a non-intrusive way.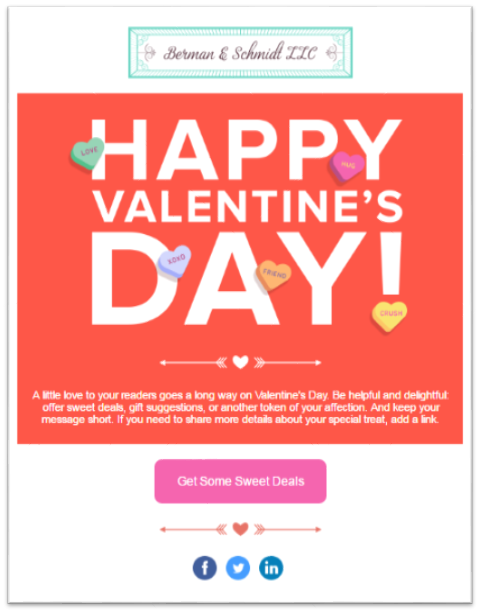 Partner with a fellow local business
If you're planning to show your own business some love this Valentine's Day, you should do the same for other local businesses within your community. Reach out to a similar small business near you to tag one another on social media or share small giveaways.
For example, this idea could be lovely for a business in an industry that may not align with Valentine's Day but could partner with a local bakery to hand out sweet samples.
If you don't want to join forces for a Valentine's Day offer, you could still give back to your community by volunteering with a local nonprofit instead. You could post updates about your day on social media and share with your customers your love for your own community!
Valentine's Day social media posts
Sweeten your Valentine's Day marketing pot by carrying your strategy over to social media for an added boost. Use these easy Valentine's Day social media post ideas to get started:
Related: Are your social media accounts ready to take on Valentine's Day? Know what you need to improve on first with our free, instant social media presence grader.
Show your followers some love
Showing follower appreciation strengthens your relationship with them and Valentine's Day is an ideal opportunity to do this. Establish your Valentine's Day social media presence with a post acknowledging your awesome following.  A simple "thanks for following us" post with a Valentine's Day theme can do the trick without taking up a ton of time.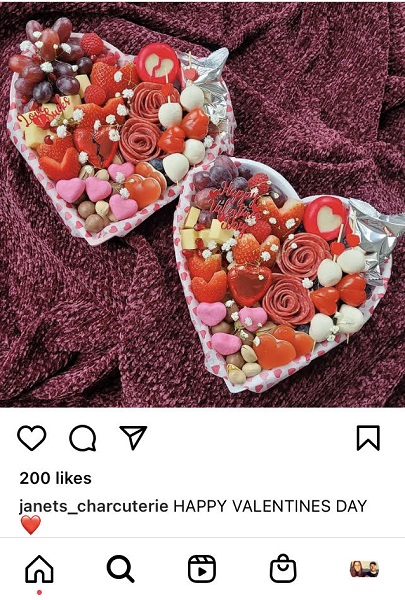 Share a Valentine's Day sweet
The best part of any holiday? The food! In fact, candy and sweets are the top-selling items for the Valentine's Day season. Surprise your followers with a sweet treat by posting a favorite dessert recipe or Valentine's Day goodie.
If nothing comes to mind to share, ask your followers to help you out by commenting their favorite Valentine's Day dessert. This can improve your engagement to help you show up in News Feeds later, and your audience will have a blast chatting about tasty treats.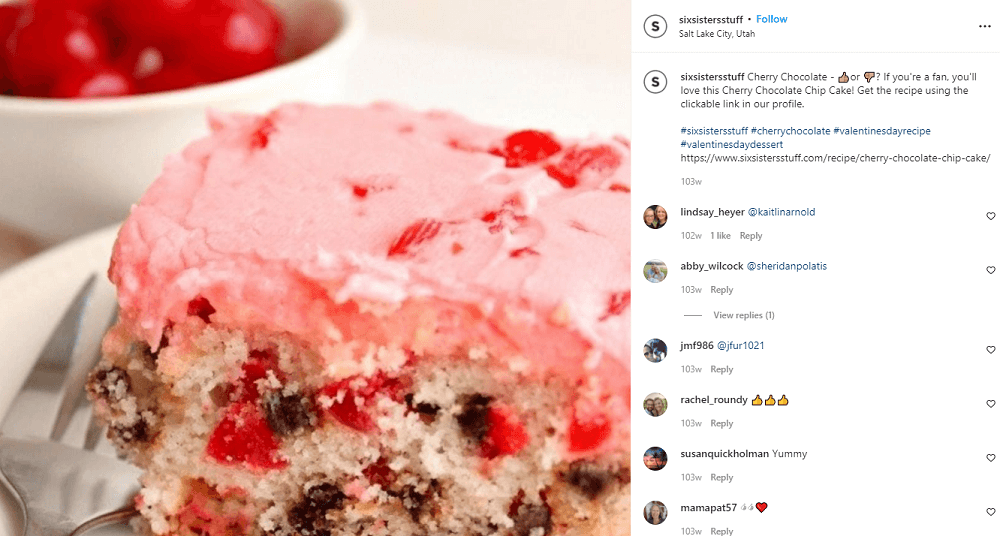 Related: Get ready-to-post Valentine's Day Instagram captions.
Host a couples contest
A social media contest or giveaway is a smart idea year-round, but you can up the ante by adding a twist for Valentine's Day. Call out followers in a relationship with a couples contest.
One example would be to first find some fun Valentine's Day trivia. Next, you could have both partners tag you in a post on Instagram with their answers. Then, all you'll have to do is repost the correct winners rewarding them with a couple's coupon or gift for two.
Post self-care tips
Not everyone is in a relationship on Valentine's Day, but don't let that stop the holiday fun. Valentine's Day is the perfect time to remind your followers of the importance of self-care. Just like the classic saying goes "in order to love someone else, you first have to love yourself." Your followers will appreciate the reminder to be kind to themselves during this busy season.
Try posting a DIY face mask recipe, meditation tips, or share one of your own guilty pleasures to add a touch of personalization to your social media marketing. You could even share specific self-care ideas that relate to your niche market, like time management tips, a fitness routine, or ask your followers to comment their own.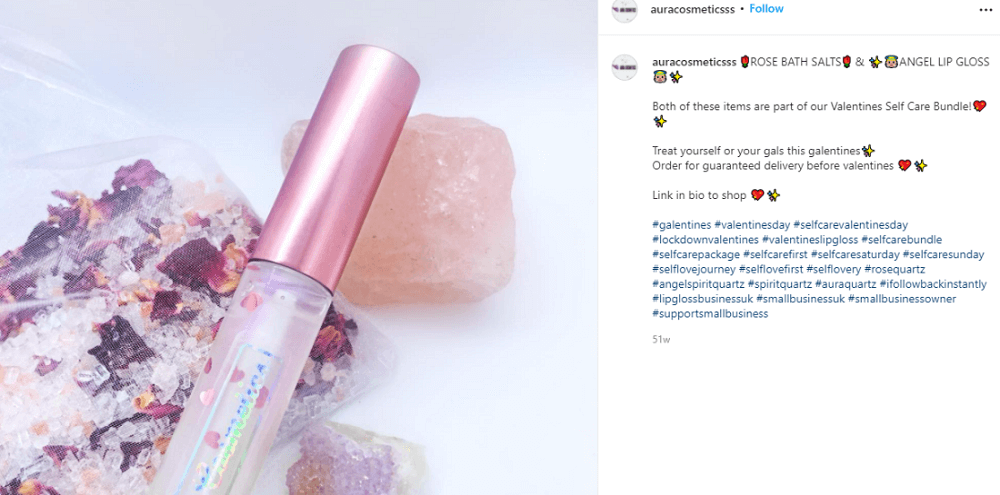 Run a Valentine's Day referral program on social media
In school, we used to give out carnations for Valentine's Day with each color flower meaning something different. Red was for love, white was for friendship, and pink was for "someone special." This meant we were sharing Valentine's flowers with everyone, like our friends and family.
You can leverage the same idea to make a vibrant Valentine's Day referral program for your followers to tag their friends and family for a prize. The person with the most tags could win a discount code or special freebie, and you win follower growth!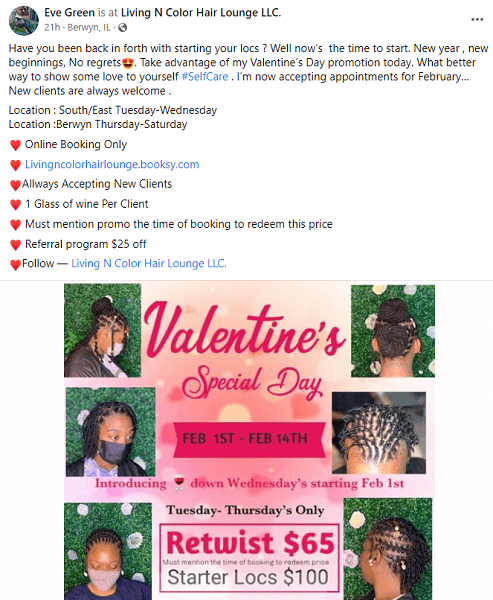 Use Valentine's Day hashtags
Another evergreen social media tactic that can give your Valentine's Day strategy a boost is to use hashtags. Hashtags help your posts get found since both your followers and newcomers could search your hashtag. They can also add a touch of fun and festive flair to your Valentine's Day posts to help you stand out from the competition. Fall in love with these Valentine's Day hashtags below:
#livelaughlove
#loveandlight
#valentinesday
#liveandlove
#happyvalentinesday
#sweettreats
#weheartyou
#hearteyes
#rosesarered
#violetsareblue
#bemine
#bemyvalentine
#loveyourself
#selflove
#valentinesdaygiveaway
#blamecupid
#valentinegift
#hugsandkisses
#couplegoals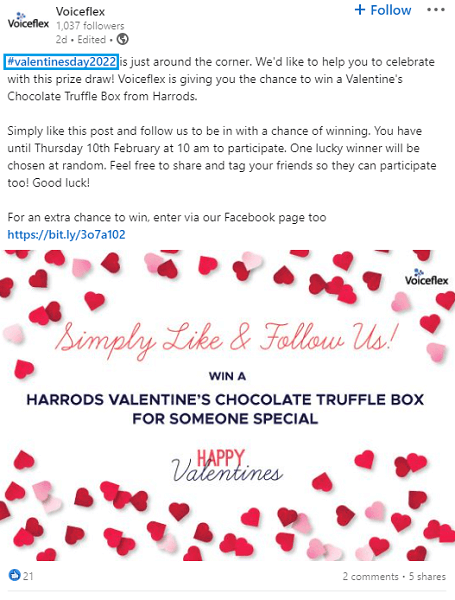 Related: Looking for even more social media ideas to last you all year? Look no further than our big list of 422 social media holidays to find posts for every month of 2022.
Valentine's Day marketing slogans
With all these ideas, you'll need Valentine's Day marketing slogans to really make them pop. Make your strategies fit for your theme with these Valentine's Day marketing slogans:
Valentine's Day marketing slogans for sales:
Valentine's Day gifts we love
We're in love with this sale
Love, laugh, shop
Deals you'll love
Valentine's Day the shopping way
Roses are red, violets are blue, deals just for you
The savings have never been sweeter
Valentine's Day marketing slogans for services:
Offers you'll love
Valentine's Day booking extravaganza
Sweet services just for you
Made with love
Appointment times you'll love
Get results you'll love
Book now for a Valentine's Day treat
A Valentine's Day service surprise!
Let cupid book for you
Valentine's Day marketing slogans for any business:
Valentine's Day giveaway!
All you need is love
From our hearts to yours
Love is in the air
SAD: Singles Awareness Day
Our hearts beat for you!
Spread the love
Celebrate love this Valentine's Day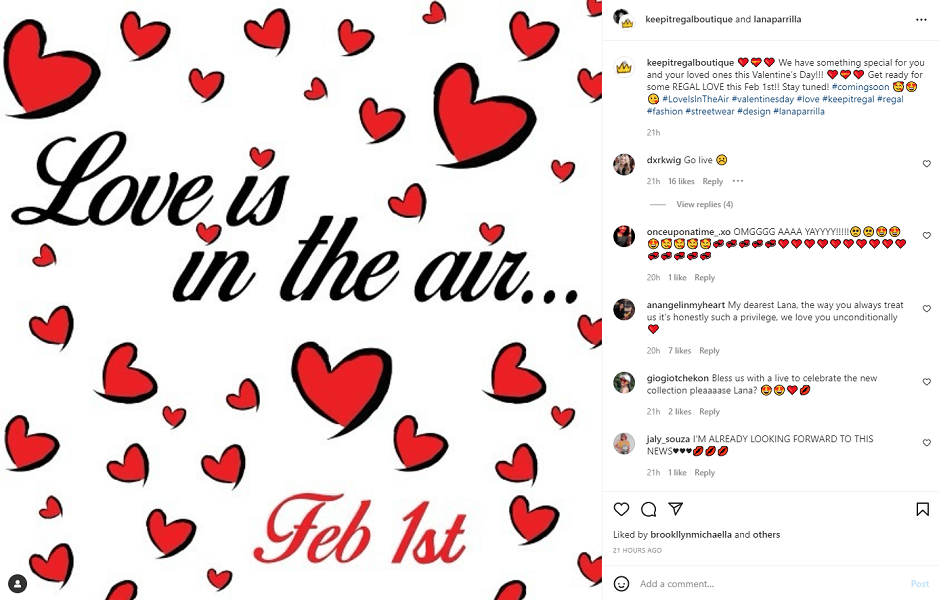 Show your customers some love this February
Remember, Valentine's Day and marketing are the ultimate couple! With Valentine's Day coming up, there's no way you won't be able to rake in revenue. Be sure to vary your strategy using these Valentine's Day marketing ideas to give your customers something fresh to check out. You'll have your target audience falling for your business in no time!